Relieve Muscle Pain - Facilitate Recovery - Maximize Performance
MuscleAidTape™ taping technology treats muscle and joint pain at the source. Providing strong support to muscle structure, kinesiology tapes strengthen and provide relief by focusing blood circulation to certain areas.
MuscleAidTape kinesiology tape employs the latest in sports medicine technologies. The wave-patterned design acts like human muscles with the ability to contract and expand. MuscleAidTape's flexibility helps synchronize the neuromuscular system back to correct postures, stimulates blood circulation, and proactively offers pain relief. With exceptional air permeability and water resistance, MuscleAidTape lets sweat evaporate, offering you comfort while you move through air or water. 
 MuscleAidTape taping technology treats muscle and joint pain at the source.
MuscleAidTape Product Sheet
Just about anyone who suffers from muscle and joint pain can benefit from using MuscleAidTape. Not just for professional athletes and weekend warriors, those who work standing on their feet or sitting at a desk all day can utilize feet and lower back taping for relief. Tape up for stiff necks, arthritis, elbows, shoulders, knees, legs, and more.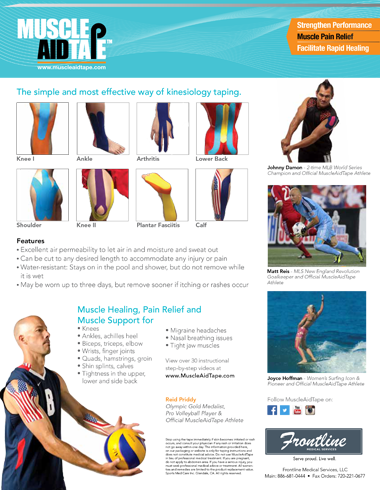 Styles and Colors for Everyone
Learn how to apply MuscleAidTape to relieve muscle and joint pain.
MuscleAidTape:
Neck & Migraines
MuscleAidTape:
Carpal Tunnel Syndrome